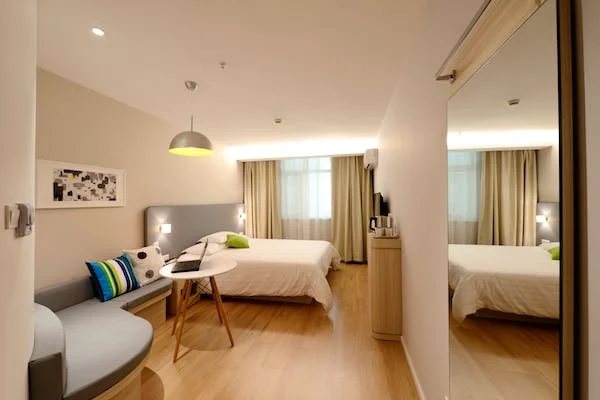 As the winter of 2023 approaches, it is high time to start thinking about how you can update your home to create a warm and cosy atmosphere during the colder months. To help you stay on top of the latest trends, we have put together a list of all the top interior design trends for winter in 2023. From colours to textures, and from furniture to decor, these trends will help you create a stylish and comfortable home that will keep you feeling cosy all winter long –
In addition to bold colours, natural materials are also a top trend for winter 2023. This includes materials like wood, stone, and leather. These materials are popularly chosen because they bring a sense of warmth and cosiness to any space. Look for furniture and decor pieces made from reclaimed wood. You can also add a stone accent wall for a touch of rustic charm. Organic materials can also be incorporated through plant life. You can go for potted succulents or hanging ferns to give an aesthetic theme to your space.
In 2023, interior designers are moving away from cool, neutral colours and towards warmer, earthier tones. Think rust, terracotta, ochre, and burnt sienna. These rich, warm colours create a cosy and inviting atmosphere. They are also considered the perfect choice for the colder months. Use them on your walls, on your furniture, or as accents throughout your home.
While warm and earthy tones are dominating the colour palette this winter, bold, geometric patterns are taking over when it comes to decor. Geometric patterns can successfully add interest and depth to any space. From chevron to herringbone, and from triangles to hexagons, these patterns have been creating an interesting theme or overall look for the viewers. To incorporate them in your house, you can use them on your throw pillows, rugs, or even on your wallpaper.
One of the biggest trends for winter 2023 is the use of bold, statement colours. While neutrals have been popular in recent years, we are now seeing a shift towards brighter and bolder hues. Think rich jewel tones, like emerald green and sapphire blue, or warm and spicy shades, like terracotta and burnt orange. These colours can be incorporated through accent walls and throw pillows. You can make use of these colours through other decor elements in your home.
Vintage-inspired decor has been trending for a few years now, but it is still going strong for winter 2023. From antique furniture to retro lighting fixtures, vintage pieces can add a sense of character and history to any space. Look for pieces with unique shapes or intricate detailing. To make them more aesthetic and impactful, mix and match different eras and styles to create a truly eclectic look.
As the temperature drops, we are all looking for ways to stay cosy and warm indoors. This is where cosy textures come in. From fluffy wool blankets to plush velvet pillows, there are many ways to add texture to your decor. Faux fur rugs or throws are other popular options. It is so because they add both warmth and texture to any room. These textures can be incorporated through soft furnishings, like throw blankets and accent pillows, or through larger pieces, like rugs and curtains.
Gone are the days of straight, rigid lines. In 2023, designers are embracing curved, organic shapes in furniture design. From sofas and chairs to coffee tables and side tables, curved furniture adds a certain level of softness and fluidity to your home. This trend is perfect for creating a cosy, intimate atmosphere in your living room or bedroom.
Finally, sustainability is a major trend for winter 2023. As we become more aware of our impact on the environment, many homeowners are looking for ways to incorporate sustainable design into their interiors. This can include choosing eco-friendly materials, like bamboo or cork, or opting for vintage or upcycled pieces. Sustainable design can also involve incorporating energy-efficient lighting and appliances. You can also go for locally-sourced materials to reduce transportation emissions.
Finally, when it comes to creating a cosy atmosphere in your home, layering textures is key. Mix and match different materials, like velvet, faux fur, and knits. By doing so, you can add depth and interest to your space. Use throws and blankets to add warmth to your sofa or bed, and incorporate plush rugs to create a comfortable, inviting atmosphere on your floors.
In conclusion, the top interior design trends for winter in 2023 are all about creating a warm, cosy atmosphere in your home. From warm, earthy tones to natural materials, and from bold, geometric patterns to curved furniture, these trends will help you create a space that is both stylish and comfortable. So why not try incorporating some of these trends into your home this winter and enjoy a cosy, inviting space that you will love spending time in?
So if you are ready to bring these top interior design trends for winter in 2023 to life in your own home and are looking for a reputed construction company to help you in this process, choose only the most trusted company in Australia – BuildIt4U! We can help make your design dreams a reality. From incorporating organic materials to creating a statement wall with bold colours, we have the expertise to bring your vision to life. We specialise in custom home builds and renovations. From the initial consultation to the final project, our team of skilled professionals makes sure to work with you every step of the way. So don't wait for your dream home and get in touch with us today to get started with your unique project!